In the spotlight this month are the latest offerings from the Game Refuge team, RAIDER'S RUN and TOPPLEGANGER; now available at the App Store for your iOS Pads and Phones!

RAIDER'S RUN features manic Maze-Running for Gold and Glory... Guide your Explorers through an infinite number of treasure-laden Labyrinths in this new mobile game from Game Refuge.

TOPPLEGANGER features strategic, Multi-player Block Stacking on a whole new Scale... Players push, pull, slide or smash their way to Victory!

Best of all, these fun and frantic games of skill allow players to legally bet and win CASH in certain U.S. States and Territories!
For more info, download RAIDER'S RUN or TOPPLEGANGER today!

Game Refuge spent nearly three years creating this sprawling Social Dating Game for TrulySocial Entertainment.

"You part of an interplanetary scientific expedition in search of the most powerful energy force in the universe: a Living Organisms Volatile Emotions (L.O.V.E.). Your goal is to assume human form, blend into the planetary population and harvest as much of this energy force as possible! Be warned, however as this force is believed to be a by-product of the attraction between gender-based lifeforms 䨩ngs may get messy! You will need to communicate, engage, socialize and interact with these beings in ways that seem alien to you at first. But remember, you are not alone鯵r fellow scientists will be available to advise you along the way, and they堰romised not to laugh!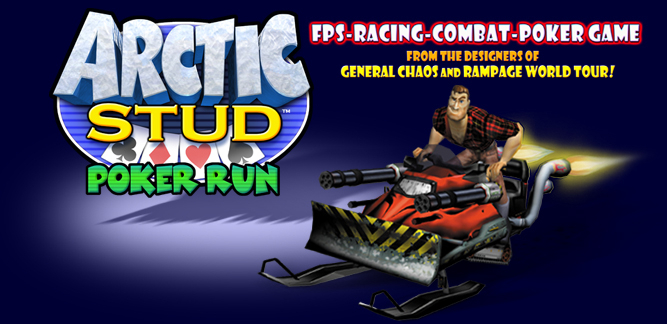 Possibly the wildest vehicular battlegame ever conceived, Arctic Stud Poker Run is a hilarious "Full-Contact Poker" Challenge that must be seen to be believed! More than just an entertaining, action-packed free-for-all; a single play reveals an "...intensely addictive, mentally stimulating thrill ride full of limitless strategy, nuance and depth".
For more info, screenshots, stratgies, &/or a FREE Game Demo, visit www.arcticstud.com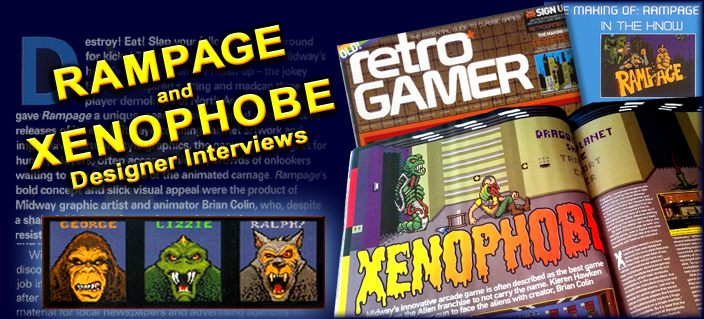 For those who feel that they absolutely need to know the really essential, downright trivial details about the creation of the classic arcade game RAMPAGE, the latest issue of retroGAMER magazine (#56) has an exhaustingly in-depth interview with Game Refuge designer Brian Colin. This slick, oversized British magazine is available in the U.S. at most of the bigger bookstore chains (Borders, Barnes & Noble, etc.)



Classic Arcade Shirts ... Beer Steins, and More!
CLASSIC ARCADE GAME "DEV TEAM" MEMORABILIA now available for a limited time!
Over the years, whenever we worked on a new Game, we also created promotional stuff to go with it; Shirts, Jerseys, Hats, Mugs, Frisbees... if we could wear it, play with it or drink from it, we slapped a logo on it and gave it away to fans, friends & family! As you might expect, folks have been begging us to re-issue them for years! (some of those shirts are getting pretty threadbare). So, at long last, we are making a number of our "Development-Team-Only" designs available to hard-core joystick junkies and avid arcade admirers alike!


For Autographed Posters and Figures, Visit the GAME REFUGE MEMORABILIA STORE...
...and for Shirts, Hats and Mugs, Visit the GAME REFUGE ZAZZLE STORE!
Home&nbspIn The Spotlight&nbspBehind The Scenes&nbspAlong The Way&nbspAround The Office&nbspAt The Arcade
On The Street&nbspOver The Counter&nbspAgainst All Odds&nbspDown The Road&nbspUp Your Exposure&nbspUnder Pressure