Whether it's in a cabinet, console, countertop or a casino, the Game Refuge designers
apply their unique, Tongue-in-Cheek, Arcade-Action design approach to everything they do.
("Arcade-Action"? Back when a videogame's success was entirely dependent on the next quarter,
a great game would take seconds to learn, months to master, and should always leave the Players
feeling that they will do even better, next time!")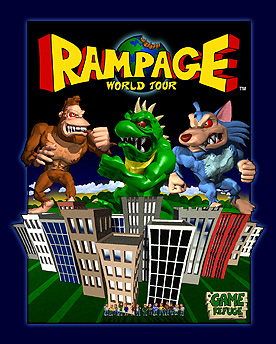 RAMPAGE WORLD TOUR (TM)(R)
In 1996, responding to a plea from Midway Games for an "arcade product with a broader appeal than the standard fighting-, driving- and shooting games", GAME REFUGE designers revisited the ravaged world they first unveiled in their arcade smash hit RAMPAGE, (originally developed by Brian and Jeff for Bally/Midway ten years earlier). Tremendous public response to the arcade piece led to numerous versions of the game on virtually every available Home Console platform.



"...Video game designers Brian Colin and Jeff Nauman created a monster of an arcade game... their latest triumph is Rampage World Tour, an updated version of their classic Rampage coin-op."
TIPS&TRICKS Magazine
R.W.T. DESTRUCTION GUIDE, June 1997
&nbsp
STAR TREK VOYAGER: THE ARCADE GAME (TM)(R)
Named "Video Game Of the Year -2002" by Wal-Mart Stores Inc., this pulse-pounding shoot-em-up, designed and developed by the trekkies at GAME REFUGE, can be found in finer arcades, movie theaters and entertainment centers everywhere! For more information visit www.teamplayinc.com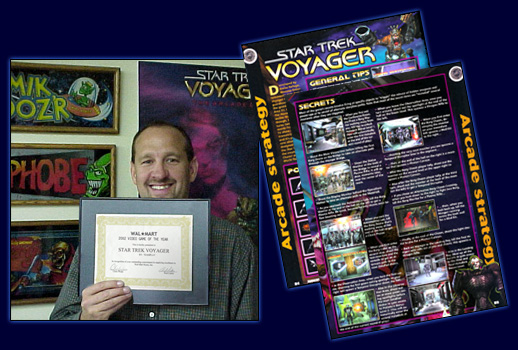 "...Star Trek: Voyager (TM)(R)
is an arcade gun-shooting game in the grand tradition of Area 51, Virtua Cop and The House of the Dead. Unlike those games, though... it's populated by new alien adversaries designed exclusively for the Star Trek universe by the creators of General Chaos and Rampage World Tour."
TIPS&TRICKS Magazine
Arcade Strategy, January 2003






GENERAL CHAOS (TM)(R)
This comic combat game, considered by many to be the first, (and funniest), real-time warfare strategy simulation, was conceived, designed & developed by GAME REFUGE for Electronic Arts back in 1992. Featuring cartoony characters and frantic, multi-player, squad-based gameplay, the game quickly became one of EA's best-selling original Sega Genesis titles.


"What Firepower! What Destruction! What a Party! It takes a mercenary's instincts and a warped mind
to command the forces of General Chaos against General Havoc's storm troopers in this manic
1-4 Player action game. Remember, the only rule is that there are no rules!"

Electronic Arts, January 1992
Home&nbspIn The Spotlight&nbspBehind The Scenes&nbspAlong The Way&nbspAround The Office&nbspAt The Arcade
On The Street&nbspOver The Counter&nbspAgainst All Odds&nbspDown The Road&nbspUp Your Exposure&nbspUnder Pressure